NEW Keepsake Cookbooks are a slimmed-down version of Secret Ingredients' full-size heirloom cookbooks.
Each 4 x 6 book includes a photo, dedication and up to 100+ recipes. Costs range between $29.95 and $34.95.
There are four styles to choose from; two family styles and two holiday styles.
Secret Ingredients Announces New Keepsake Cookbooks (Press Release)
Click on the links below for high-resolution images. Please contact Michelle Tennant at 828-749-3200 or michelle@tennant.org with media requests.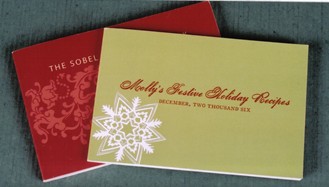 One Holiday and One Family Style